Welcome on our website to the
International Conference "Tastes of Danube. Let's taste it" on 8th of July 2016
and to the
Danube-Breakfast on the Herdbrücke Ulm/Neu-Ulm on 10th of July 2016!
How to use this website?
There are two menus included in this website:
Menu 1: to be found above, on the upper part of the site

Here you can find pictures to the both events (Photo Gallery), videos of the both events (Videos), some articles about the events (Press) and a direct link to the main website of the project Tastes of Danube (Tastes of Danube: Bread. Wine. Herbs).
Menu 2: on the left side of the site

You have the choice between the English and the German language. The information will be showed in the language you have chosen.
By clicking one of the languages, the following detailed menu will open. Now you can choose the menu point of your interest.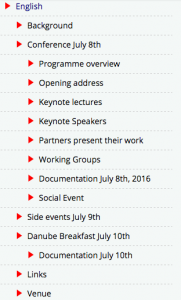 What can you find under every menu point?
Background – information about the project Tastes of Danube and about the two events
Programme overview – the programme of the conference "Tastes of Danube. Let's taste it"
Opening address – overview of the speakers and their lectures who opened the above mentioned conference
Keynote lectures – overview of the keynote lectures, links to the videos of the lectures
Keynote Speakers – Curriculum Vitae of every speaker
Partners present their work – PowerPoint presentations of the partners activities and links to the video presentations
Working groups – overview of the working groups and links to the videos in which the moderators present the results of the working groups
Documentation July 8th, 2016 – overview of the links to Photo Gallery and Videos
Social Event – the programme of the Social Evening and link to a Photo Gallery of the event
Side events July 9th – overview of the activities happened on Saturday, 9th of July and a small Photo Gallery to them
Danube – Breakfast, July 10th – small description of this event
Documentation July 10th – Links to the Photo Gallery and Videos to this event, the table arrangement of the participant organisations
Links – links to different important websites concerning the supporters of both events, projects, etc.
Venue – information about the venue of the conference